HOW STUDIO DISTRACT DEVELOPED A GLOBAL KID'S TV SERIES AND CONSUMER PRODUCT RANGE
Rollie and Friends is an IP, created and developed in-house. We wanted to create a show that could sit alongside British greats like Fireman Sam, Thomas the Tank Engine and Postman Pat, while at the same time being something new and different that would excite a modern, global audience.

We opted to set the show in an amusement park as this is universally recognised as a safe environment for children and one that is full of fun and adventure.

Alongside our rollercoaster hero we developed other recognisable characters to work with such as; a Runaway Train, Space Ride, Ferris Wheel, Pirate Ship, water rides, Bumper Cars and a flowery Tea-Cup ride.

Rollie and Friends is a 3D CGI animated pre-school series about the adventures of Rollie the Rollercoaster and his friends at the 'Sunshine Cove Amusement Park'.

Fast paced, action packed and full of fun, this animated series for pre-schoolers features best friends Rollie the Roller Coaster and Tootie the Runaway Train Ride as they learn to cope with the ups and downs of life, alongside their friends in Sunshine Cove.
Rollie is an enthusiastic, young Roller Coaster who aspires to be the best ride in the whole of Sunshine Cove. Rollie knows the way to become the best is to learn from all the other rides, especially the older, more experienced ones like Miss Sunshine the Ferris Wheel and Captain Splash the Pirate Ship. While Rollie is eager to learn, he's also eager to please, and is always happy to help when and where he can.
This is our own internal property and we oversee every single element of it's development. From character design and script writing through to audio design and third party exploitation.

Concept Artwork
From day one we explored all possible directions, looking at environments inspired from culture around the world. From day one we explored all possible directions, looking at environments inspired from culture around the world.
Environment Designs
The characters are a very important element for the park, but without their actual tracks, routes, stations and ride elements it would be pretty boring. We developed scores of designs for the environment of Sunshine Cove, exploring many directions and themes. This concept stage is the fastest way to create and refine ideas before we move into the modeling phase.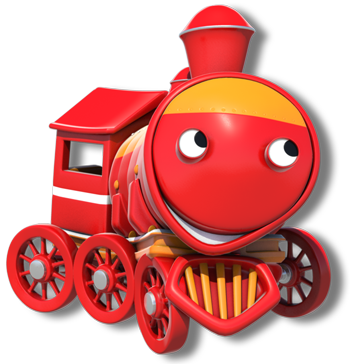 Technical Solutions
Characters, props, lights and environments plus many more elements of a production require a process called 'Rigging'. This allows the artist to manipulate the asset with a greater level of usability. The creation of rigs for certain assets can sometimes take weeks or months. The benefit of this time taken is exposed later when it reduces costs further down the production pipeline. We often re-use rigs from one asset to the next or even from one project to the next.
Character Rigs
Each character in the Rollie crew has been rigged in their own unique way. The solution for each character rig was generated after many discussions, experiments and failures and will no doubt evolve as we keep testing the rigs.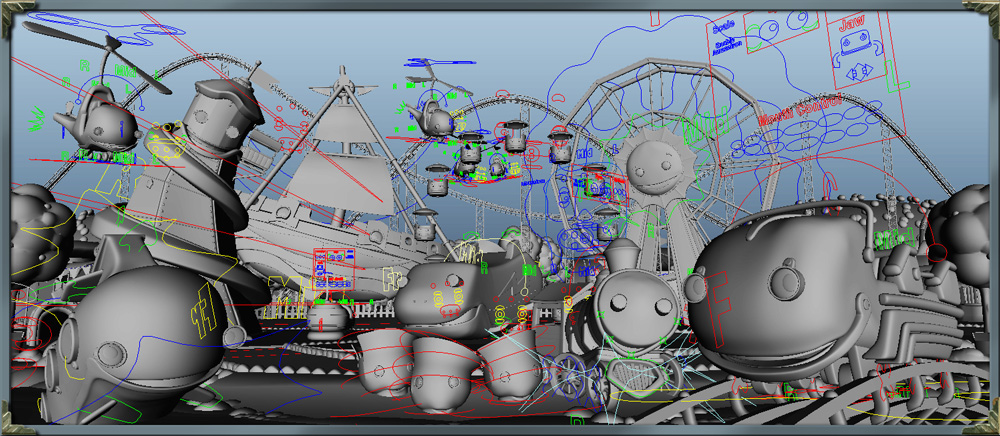 The Rollie Rig
Although the 'Rollie' rig is always expanding as we move forward with the any new animations, it is already a pretty complex rig wrapped inside of more simple control curves that make manipulating it much easier.
In this video you should be able to briefly see the facial controls (above him), these are for controlling the eye and mouth blend shapes.
This rig gives us the ability to squash, stretch, twist him whilst still allowing us to have micro and macro controls over all of his body.
We went through many iterations of the 'Rollie and Friends' branding before we were happy with what you see today.
Similar to any other logo that we design for TV shows and the like, it was important that the design worked in micro and macro scale. This required a certain level of contrast in the design to make sure the brand stood out on every form of visual communication.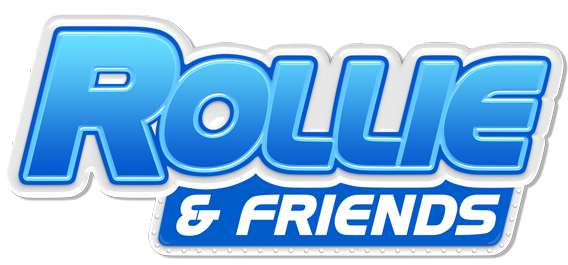 Once we have designed, modeled, textured and rigged our characters and environments we have the exciting stage of lighting and rendering.

This stage is when we can actually create images and video to show off all that we have created up until this point. On the right are a collection of images we created for marketing purposes with the joint purpose of also exploring whether what we created is at the high standard we had aimed for.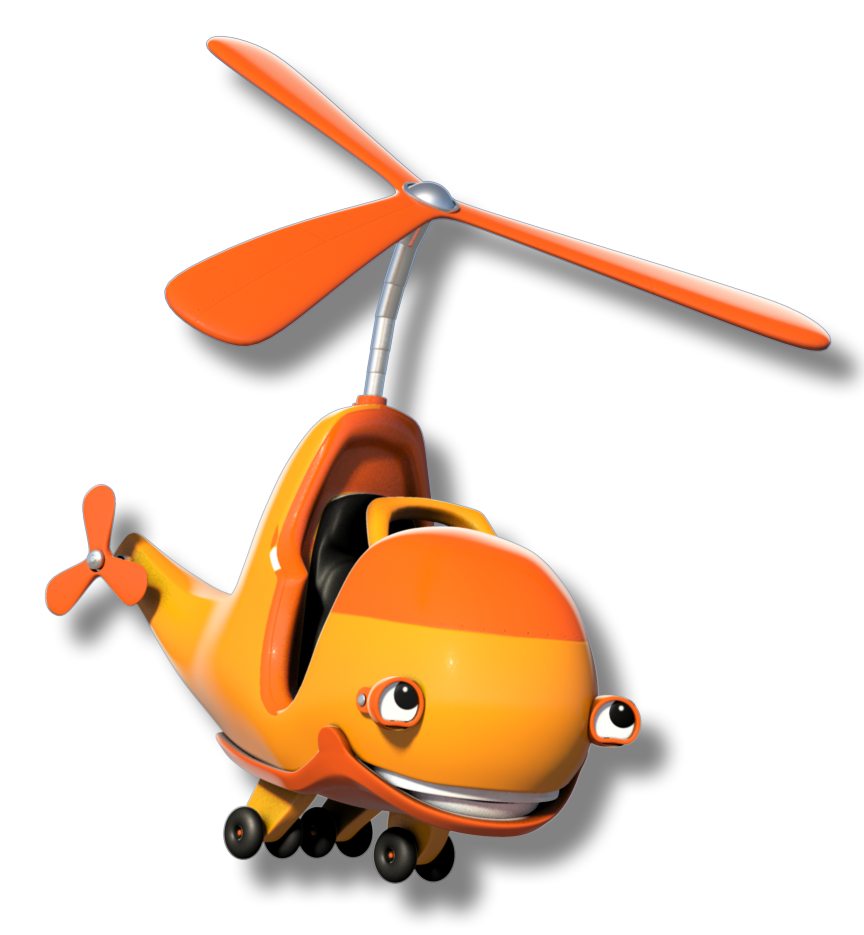 Animation Samples
While in the process of testing the character and assets rigs, we often create small, sample animations to demonstrate the variation of poses that can be created. We also need to leap past other technical challenges from time to time preparing us for the bigger tasks further on in production. Below are a few animations created for these purposes.
8 Second Time Trial
As a test of our production pipeline we created 8 seconds of animation, from storyboard, animatic, animation to rendering in one 8-hour day.

One person completed each role. One person to create storyboard and animatic. One person to animate all characters. One person to light and render the scene.

'Flash' Animation Hover Test
This animation test shows how 'Flash the Space Ride' glides through the air, almost flying but not quite having the ability to go far from the ground.
Also in this test we experimented with a futuristic lens flare to add a sparkle to his character.
Rollie Dexterity Demonstration
After initial feedback from parties that saw Rollie in it's early stages we decided we needed to create a demonstration animation to give a taste of Rollie's physical abilities.
We have always seen Rollie as more of a puppy dog than a rollercoaster, with a bounding sense of excitement.
We wanted to display this while also showing the physical dexterity of the rig, showing that Rollie can pick up objects and interact in an extremely playful manner.
Environment Model Turntables
As we build assets and elements for the amusement park we like to light and render them to fully test the look and feel before we sign off their development.
For all assets we build 2 levels of detail. One with a reasonably low polygon count, cleverly disguised through techniques we have learnt over the years. The second level of detail is a more detailed and rich version for close up camera work.