HOW STUDIO DISTRACT DEVELOPED A PRESCHOOL TV SERIES TEAMING UP WITH INDUSTRY VETERANS AT PARABOLA
Spot and Dot is a show about discovery, for a pre-school audience. It's about two young birds discovering the world around them. They learn basic concepts such as reflections, echoes, loud and quiet. The content is in line with the personal, social and emotional development element of the National Pre-School Curriculum.
The episodes of Spot & Dot will show the growth between two fledgling hedgerow birds, of friendship and understanding, not only of each other, but also of their own world. Spot & Dot are two little characters that young children will have no problem relating to. Like them, theirs is a voyage of discovery, as they begin to explore the fantastic patterns, colours and sounds they find.
The individual elements needed to look hand crafted with tangible textures that could reach out directly to a child's immediate familiarity and connection with their environment.
Creating the realistic looking textures on this project was nice and easy. The characters had been made out of felt and other fabrics in the initial development stage which meant all we needed to do was photograph each element and bring them into the 3D software.
From concept to final product

SPOT
Spot has a beautifully speckled breast and sparkling brown eyes. A very outgoing little bird, Spot is impetuous and spontaneous, sometimes too rash and reckless. He is so eager to discover this new world that he can't sit and wait but has to dive in at the first opportunity. This, of course gets Spot into trouble more often than not.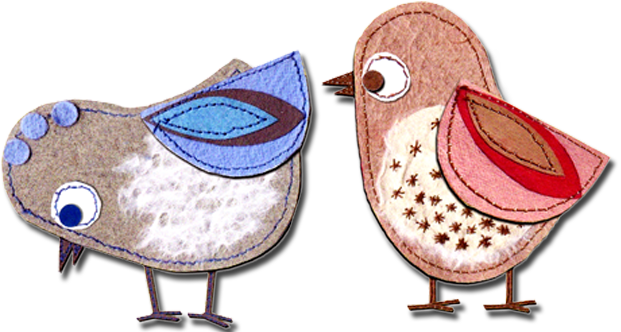 DOT
Dot has a beautiful blue dot on the crown of its head and lively matching blue eyes. Not quite the opposite of Spot but not far off, Dot is rather more cautious and considered. Dot likes to think things through before making a  decision. She tries to caution Spot but is not always successful. It is Dot who has to help Spot when it gets into  trouble.
After graduating from Norwich School of Art and Design in 1977 with an upper second class honours degree in Graphic Design for Film and Television, Brian was employed by the BBC in their Graphic Design Department at Television Centre in London. During this time he produced many and varied title sequences and inserts for Television programmes, making the Children's department his speciality.
After completing two in-house training courses – "Programme Production", and the "Advanced Film Director's Course", he was offered the opportunity to work as Assistant Producer /Director, on programmes such as "Play School" "Eureka!", "Caterpillar Trail" and "Jigsaw." In 1987, Brian moved north, to work as an animation Director at Cosgrove Hall Productions. During his ten years there, he worked on "The Wind in The Willows", "Creepy Crawlies",(Two series) "Noddy's Toyland Adventures" (Five series, including a 30 minute special), "Oakie Doke" (Series 1) and four thirty minute episodes of the BAFTA nominated "Brambly Hedge." Alongside these, Brian directed several pilot films including "Odysseus – the Legend" which incorporated animated – and background – CGI elements.
Brian then went on to help develop and direct the pre school series "Rubbadubbers", and, after working on all four series, went on to Produce and direct the final episodes of the model animated "Bob the Builder",television series.
Brian is now an Independent Producer/ Director, and as well as producing a pilot episode for "franksworld" featuring a model animated Frank Sidebottom, is working on the development of new ideas for television. In 1998, Brian left Cosgrove Hall, and alongside colleagues Jackie Cockle,(Producer) and Joe Dembinski (Lighting Camera), set up HOT Animation. Initially employing additional staff totaling 19 people, Brian directed another four times thirty minute episodes of "Brambly Hedge" during the course of the first year, whilst the studio developed the series "Bob the Builder."

PETE REEVES
WRITER
Pete Reeves was first published at 14 when he had an article accepted by the late lamented "Punch" magazine. As a 24-year-old copywriter his work won 6 prestigious CLIO awards for advertising excellence at the New York Advertising fair.
Later he was to write "Cabs," a daily soap, for Independent Radio. His television work started with Cosgrove Hall Films in Manchester where he has written for such series as "Cockleshell Bay", "Duckula," "Fantomcat" "Bill and Ben" and "Creepy Crawlies." He's scripted "Bob the Builder" for HIT Entertainment and has written, "Bob" stage shows for both the British and Australian markets plus full length DVD's for exclusive sale in the U.S.A. Other credits include "Postman Pat", "Pingu", "Hana's Helpline", "The Large Family" and series for TV Catalunya and ZDF-Berlin.
Currently he's scripting for Aardman Animation and their highly successful first preschool series "Timmy-Time," and "Claude" for Mckinnon &Saunders/Dot to Dot productions. He's also working on an adaptation of Alastair Grahame's "Full Moon Soup" for Porchlight Entertainment, Los Angeles. In January 2007 Pete won a finalists certificate at the New York Animation Festival for his work on "Bob the Builder".
Peter lectures regularly on Media Studies courses at Salford and Bolton Universities.
We were approached by the property's creators and rights holders Pete Reeves and Brian Little.
Brian and Pete had worked in Children's television for many years. Together with a talented team of experienced creatives they had developed the concept and now wanted the characters bringing to life through animation to demonstrate how we could fake old fashioned multi-layer 2D animation with modern 3D animation techniques, which is where we came in.
During the development process, the creators were heavily involved. It was very much a collaboration. The writer and artists came into the studio to work with our animators to ensure that the work we were creating sat nicely with the vision for the property. 
The creators were keen for the property to have a stop motion feel but were aware that budgets could be kept lower if a digital process was used.
It would perhaps have been the more obvious option to use post production software like Adobe After Effects to create the animation, however we used 3D software which enabled us to implement a sophisticated rig which allowed us to do much more with the characters in a more efficient way than if we had used a 2D program. The rig allowed us to rotate the characters in 3D while retaining a 2D look.
We learned a great deal from working on Spot and Dot. Through the development process we learned how we can produce content at low cost without losing out on quality  which enables us to be able to offer solutions to  clients with a range of budgets.